If you optimize protein intake today, your body will thank you later. I just returned from a trip to Seoul where I was speaking with Korean media and food manufacturers about the importance of protein in the diet. I shared concepts for consumers and food and beverage manufacturers to include dairy proteins as part of a strategy to optimize protein intake throughout the day.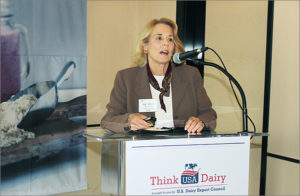 Highlights of my trip: http://www.thinkfood.co.kr/news/articleView.html?idxno=69465
Optimal protein intake is important for consumers around the world. Current protein recommendations are based on minimal protein to prevent deficiencies. Higher protein diets (with at least 20% of calories from protein) provide optimal protein intake for:
Maintaining Muscle Mass
Blood Glucose Control
Weight Management
Healthy Aging
Maintaining stable blood glucose, with regular balanced meals, also helps control mood.
I learned that since my last trip to Korea in 2002, Korean consumers are now very much interested in exercise and Korean communities are building more trails and exercise facilities.  Korean food and beverage companies were anxious to discuss technical aspects of incorporating dairy proteins into a wide range of health food and beverage products.
Recently the Academy of Nutrition and Dietetics, Dietitians of Canada, and the American College of Sports Medicine issued a position statement. It included a section on "Optimal Protein Intake Across the Adult Lifespan." 
Young adults should aim for 20 to 25 grams of high-quality protein at each meal.
Middle–aged to older adults should aim for 30 to 40 grams of high-quality protein at each meal.
Critical times to add more protein to the diet include within the hour after exercise and at breakfast. Try a whey protein and banana shake after exercise. For breakfast add a scoop of whey protein to your favorite pancake recipe or instant oatmeal.