eBook/Kindle version available at  Amazon
It's 1980, and Kate wants it all—her career as a food scientist, her sexy pilot husband, and a family. After the birth of her second child she expects to go back to work in six weeks, but a postpartum psychosis derails her plans. The harder Kate struggles to pull together the shattered pieces of her life, the more she fears she will ultimately lose everything.
Postpartum Psychosis can strike healthy, happy women with no history of mental illness. Inspired by true events, this novel gives a compelling insight into a young mother's quest to regain her sanity at a time when little was known, and less was spoken, about perinatal mood disorders.
Available Now
---
Currently Available at
Covered Treasures Bookstore

105 Second Street, Monument, CO 80132

Poor Richards Bookstore

320-324 1/2 N. Tejon St., Colorado Springs, CO 80903

 
Book Quotes & Reviews
"Gerdes has written that rare piece: a fictional story of postpartum psychosis with a ring of truth. In it, a woman's relatively mild case of postpartum psychosis shatters her psyche and strains her marriage. This book includes an important but often overlooked aspect of the postpartum psychosis experience – the 'post-recovery recovery.'"
"Captivating and real. As a clinician, to gain insight into the thought process of Kate as she experiences a postpartum psychosis was disarming and invaluable."
"I just devoured your book in 24 hours. Amazing!! I loved it!"
"As a working mom, I was immersed in Kate's struggles. As a military spouse, I identified with her pain. This powerful novel is one helluva great read!"
"… riveting, compelling, and heartfelt ..."
"Back in Six Weeks accurately depicts the demands placed on our military families as a result of constant deployments. Inspired by true events, Gerdes gives us a personal look at the life of an Air Force wife during the Cold War."
"Sharon Gerdes has given us a gift in her novel Back in Six Weeks. Her ability to write a fictional account of the complexities of maternal mental illness is remarkable.  She has captured the man's emotional reactions, the couple's relationship, the difficulties in their workplaces, as well as an authentic voice of the traumatized woman.  Bravo!"
"After years of hiding her shameful memories of postpartum psychosis, Sharon Gerdes could no longer tolerate the silence. With the help of the ancient tool of storytelling, she allowed her mind to move toward those awful weeks. The longer she wrote, the stronger she felt. No longer constrained by the veil of shame, she turned her formidable fiction writing skill into an excellent novel to help raise public awareness of postpartum psychosis as well as to help women who have experienced it."
"Feels real, personal , funny and hopeful at same time."
"Back in Six Weeks is brilliant. It is a very emotion inducing story. So many things in the book will ring bells for women who have been through similar situations."
"An engaging narrative about a woman's struggles with postpartum psychosis. Gerdes storytelling ability brought her characters to life and is a must read for anyone interested in perinatal mood disorders."
News & Events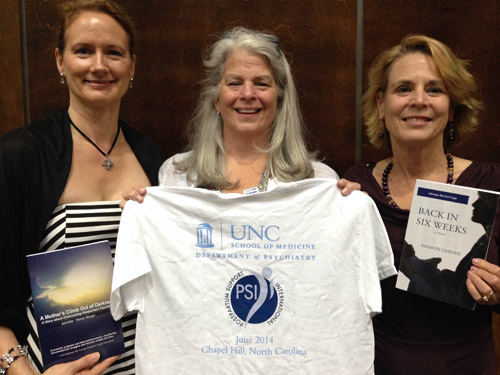 "Back In Six Weeks" recently won two EVVY Gold Awards
1st Place – Women's Studies
1st Place – Fiction Romance
Sharon at the Postpartum Support International conference in Chapel Hill, NC, June 19 to 21, 2014.
She is pictured with Jennifer Moyer, author of "A Mother's Climb Out of Darkness, A Story About Overcoming Postpartum Psychosis," and Chris Raines, RN MSN APRN-BC, 2014 Conference Program Chair.

If you or someone you love is experiencing postpartum mental health issues, visit Postpartum Support International for resources and assistance.