SHARON GERDES is a Certified Food Scientist, author, and speaker who consults with major food corporations on product development, nutrition and regulatory issues.
CERTIFIED FOOD SCIENTIST AND NUTRITIONIST. For the past fifteen years, Sharon has operated an international consulting firm, and is recognized as an authority on the role of dairy proteins in food and health.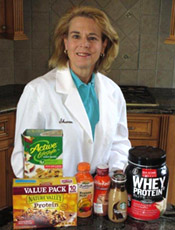 TECHNICAL PRESENTER: Sharon has presented around the globe. Below are examples of presentations made on behalf of Dairy Management Inc. and the U.S. Dairy Export Council:
Seoul, Korea – "Everyday Health with U.S. Dairy Protein." 2016

Speaking about protein at Seoul media seminar – June 2016

Bangkok, Thailand – "Optimizing Protein Intake Throughout the Day and Life Cycle." 2015
Beijing, China – "Healthy Snacking with Whey Protein."
Las Vegas, NV – "Attitudes toward Healthy Aging."
Boston, MA – "Dairy Ingredients for Satiety."
Seoul, Korea – "U S Dairy Ingredients in Beverages and Functional Foods"
She served as President of the Philadelphia Section of the Institute of Food Technologists. She advises major international food corporations on health, nutrition, formulation and regulatory issues. Expertise includes: Formulation Tricks, Consumer Insights, Weight Management, Food Labeling, Bakery and Dairy Technology, and Regulatory Compliance.
AUTHOR: Sharon enjoys writing both fiction and nonfiction.
She has written over sixty non-fiction articles and is a contributing author to four non-fiction books on food, nutrition, childcare and health topics. She is a postpartum psychosis survivor and serves as Vice President and Public Relations Media Chair of Postpartum Support International.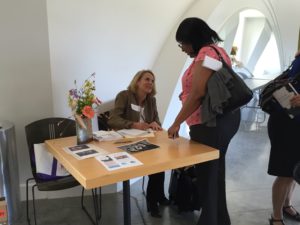 Her first novel, "Back in Six Weeks" is inspired by true events. It gives a compelling insight into a young mother's quest to regain her sanity at a time when little was known, and less was spoken, about perinatal mood disorders.
She has written over 80 articles for various food industry publications, including a quarterly Dairy Detective column for Dairy Foods magazine. Topics included: proteins, colors, flavors, sweeteners, flours, yogurt, cheese, and probiotics.
SOME SAMPLE ARTICLES:
DairyFoods.com website
Protein at Breakfast
MOTIVATIONAL SPEAKER: Sharon is available to speak to groups on topics including:
"Get Your Life Back in Six Weeks – Positive Changes for a Healthy Mind and Body."
"Food and Mood – How What You Eat Affects Your Mental Health."
To schedule a presentation, contact Sharon here.
She is a postpartum psychosis survivor and serves on the board of  Postpartum Support International. See her profile on the PSI website.
EXERCISE ENTHUSIAST: Sharon believes that healthy living includes regular exercise. She enjoys hiking, biking, cross-country skiing, golf and swimming. She has climbed 10 of Colorado's peaks over 14,000 feet.
An avid hiker, she lives in Colorado with her husband of 40 years, a retired military and commercial pilot.  Her first novel, "Back in Six Weeks," was released in 2014 and won 2 CIPA EVVY gold awards.