The holidays are supposed to be a time of joy. But for a mother's who's lost a baby, Christmas with an empty crib can be an overwhelmingly sad time. It's been thirty years, but I still get teary-eyed when I think of my little angel.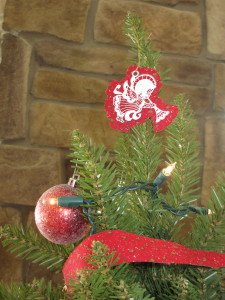 Our third son, Joshua, was born with are rare congenital heart defect and lived just one week. I held him in my arms as the end neared. I'll remember his valiant struggle for life as long as I live—a deep shuddering last breath, followed by an eerie silence.     
I was numb for weeks. Gradually I dismantled the nursery, sold the baby clothes, and donated the hand-sewn crib quilt and bumper pads to a charity. As I tried to get on with my life, medical bills poured in, a monthly reminder of a tragic week.
Just as I was getting settled into a different position at work, and managing to make it through the days with dry eyes, the holidays arrived. Everywhere I turned there were Baby's First Christmas shirts, Baby's First Christmas bibs, Baby's First Christmas ornaments. I knew they were probably there every year, but normally they stayed safely tucked away amidst the teddy bear sleepers and the cow-jumping-over-the-moon coveralls, rather than jumping out and assaulting my fragile heart.
I knew that I wanted something special to remember Joshua by, something to say that he was always a part of our family, even though he wasn't physically with us. I search through all the malls and finally found a tiny white Christmas angel.  I carefully stitched it to a piece of red cloth.  
This will be the 30th year that the little white angel tops the Gerdes Christmas tree. I like to think that our little angel is smiling down on us—always remembered, always loved, always part of our Christmas celebration.   
I needed something else that first Christmas. I needed my close friends and relatives to ask me how I was doing. I needed an opening to express the sadness that overwhelmed me amidst the Joy of the Season. I needed warm hugs and open hearts.
Most people don't know what to say to a friend who's recently lost a loved one. Especially during the holiday season, "How are you doing?" is a good start.